Gold Size Chart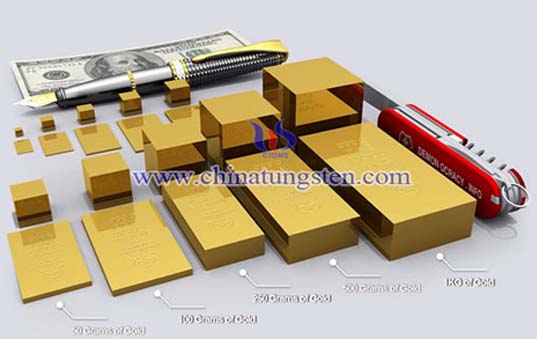 This is a chart of standard gold bar size comparison. The cubes are measured by volume & Gold weight of 19.30 g/cm3. The plates are typical Gold bar dimensions of same Gold weight.
400 Troy Oz of Gold 999.9 Fine Gold Bar
The Gold bar to below is worth the $800,000 displayed on the left at $2000/oz.
The Gold bar weights 12.44 kg, 27.42lbs or more than 3x 1-gallon milk jugs - quite heavy.
As an investment, Gold has out performed Dow Jones for last 8 years straight.
1 Ton of Gold
The 1 ton of Gold is worth $64.3 Million dollars at $2000/oz.
Gold has gone from $18.92 in 1911 to over $1,700 in 2012, the price of Gold has inflated more than 9,000%.
In recent times, Tungsten (heavy 'cheap' metal) filled fake Gold bars, which look like the ones above, have been found in Manhattan.
Such tungsten fake bars can be even be ordered from tungsten-alloy.com & chinatungsten.com.
The Bank of England's Gold Reserves can be seen in this video.
A Chevrolet Silverado 2500 Truck full of Gold
This is how much Gold the average man could haul in his truck without braking the suspension. Max carrying weight of the truck is 3670 lbs = 1664.68kg, which is the weight of the Gold you see in the truck bed - 133x 400oz bullion bars of Gold.
The value of the 1.66 tones of Gold at $2000/oz is displayed to the left at $106.4 Million dollars.
10 Tones of Gold vs. 100 Tones
The Central Banks of western countries usually handle their nations' large Gold Reserves. Couple generations ago the US dollar was backed by Gold, so the Fed had to hold Gold. Today, the dollar is backed by the confidence in United States' repayment of its debt (bonds). The US Central Bank's- The Federal Reserve's Chairman Ben Bernanke, says that Gold is only held as a tradition and that Gold is not money.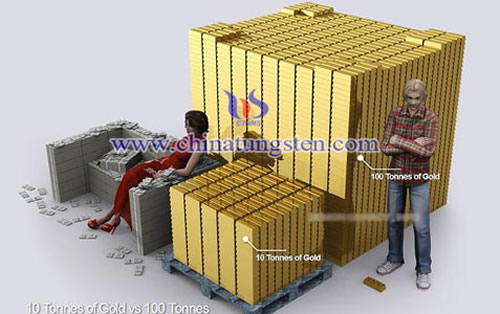 $2,130,952,380 = B2 Bomber = 33.14 Tones of Gold @ $2000 / oz
Couple years back when Gold was less valuable, a B2 Bomber was literally worth more than its weight in pure Gold. With the price of Gold going up, finally Gold is more valuable in weight than a B2 Bomber.
The Northrop Grumman B2 Spirit Bomber program cost $44.75 Billion for a total of 21 units built, that averages to $2,130,952,380 per unit and the same value in Gold @ $2000/oz can be seen on the semi-trucks on the right. To the left you see a Semi truck with $2.13 Billion dollars.
Doesn't matter how you choose economically between the semi truck of cash, the Gold trucks or the B2 Bomber, they're all worth the same.
Semi Truck 'full' of Gold - 24.88 Tones
The legal carry weight of a semi-truck is between 22-25 tones.
The truck is carrying 24.88 tones of Gold worth $1.6 Billion dollars @ $2000/oz (on the 2nd truck).